News from the Marvel cinematic universe: Andy Serkis is exactly who everyone thought he was. Namely, Ulysses Klaw. Perhaps the largest surprise from this confirmation is that it was, in fact, meant to be a surprise.
Seriously. Were we not supposed to know this yet?
Andy Serkis' Klaw will purportedly be a combination of Ulysses Klaw, his father Fritz Klaue, Baron von Strucker, and, somehow, the Howling Commandos.
I'm not sure how that last one fits, but I sure am excited to find out.
If you are new to the Marvel universe, it is time for your crash course in the MCU's newest confirmed villain: Klaw.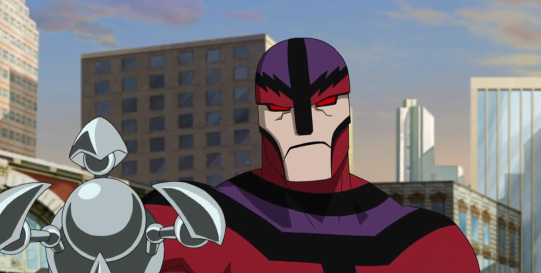 Ulysses Klaw has been in Marvel comics since 1966, when he showed up to fight the Fantastic Four with a vibranium-powered sound transducer for a hand. (It converts sound to solid matter. Go with it.) Klaw's origin story begins when he:
Went to Wakanda to illegally harvest vibranium for his

power ring

transducer
Killed T'Chaka, the ruler of Wakanda
Angered T'Chaka's teenage son T'Challa
Caused T'Challa to fight back
Ulysses lost his hand and gained his transducer
His powers include strength, durability, sonar senses, and his transducer. Also, Klaw is made out of living sound. Because that's a thing.
Fun fact: His weakness is vibranium, which causes him to lose mass. Does vibranium sound familiar? It should! It composes Cap's shield in the MCU.
Hmm.
In his Marvel Comics appearances, Klaw would go on to fight the Avengers, the Fantastic Four, Daredevil and… Well, basically everyone. He would even become the archenemy of the Black Panther.
Also known as T'Challa, superpowered ruler of Wakanda.
Hmm.
If we focus on Klaw's connections to the Avengers and Black Panther, here is the current MCU timeline:
2015 – Klaw will appear in Age of Ultron.
2016 – T'Challa (played by 42's Chadwick Boseman) will appear in Captain America 3.
2017 – Black Panther's first film is released.
20?? – At least three more Black Panther films will follow (assuming that Cap 3 and Black Panther 1 are included in that five-picture deal).
And now that Klaw is confirmed for Age of Ultron, we can assume that he will be facing off against Black Panther not long after that. So while Andy Serkis' Klaw may not be much of a surprise, I welcome any and all insight into the upcoming Black Panther films.
Crossing my fingers for more news on both fronts.
---
Follow Word of the Nerd on
Bringing out YOUR inner nerd!