One episode left, Arrow fans! Only one episode left, and then we have a nice long break from this- I mean. Ohhhh noooo. We'll have to wait. I'm so sad.
Who am I fooling? We might as well get down to reviewing episode twenty-two, "This is Your Sword." Since that is literally the worst name for an episode I have ever seen, we'll be calling it "We Actually Have No Idea What To Do With Queer Characters."
Things that happened:
Team Arrow is actually doing pretty well without their Arrow
Laurel is utilizing the sonic scream, which is AWESOME
Diggle is having some rage issues after Oliver kidnapped his wife, but don't worry since Oliver is a straight white male he'll be forgiven in about three episodes
Just look at Malcolm Merlyn!
Speaking Malcolm, he's actually the only person trying to talk to Thea about her resurrection, but since Thea's plotlines only revolve around then men in her life, she's not actually going to discuss it
Nyssa is going to be married to, raped by, and forced to bear children for Oliver
"And [she'll] have no more say in it than [her] mother was given"
What the heck Arrow
We're going to be having a very long discussion about that later
Oliver finally gives up his really bad charade of being brainwashed
No one is surprised
There is some hilariously bad exposition to catch the audience up on the whole Malcolm-helping thing
Flashbacks force us to watch the kid die very slowly
Thea and Roy are still adorable together, which probably means one of them will actually die
Ray came back, and he was also adorable and slipped happily back into friend-mode with nary a complaint and then discreetly slipped Felicity his company
God bless Ray Palmer
The team points out several very compelling reasons why the Malcolm/Oliver/Assassins plan was really really bad
Tatsu comes back to the present storyline, which would be a total blessing to us all if only she wasn't here to lend credence to Malcolm
Who I refuse to forgive
There is some furious backtracking to make Ra's seem less rapey
It does not work
Mostly because he grabs Nyssa by the face and threatens her which reminds us that he is an abusive turd of a father
Felicity and Tatsu have a conversation about Oliver
Because what else do people actually talk about
But Oliver
Tatsu suddenly becomes Katana, mask and all, and can be seen fighting for six whole seconds if you squint very hard at the background for three of them
Resident white people Merlyn and Laurel get very lengthy fight scenes
Also why can Oliver (white person) so easily overcome his brainwashing while Maseo (Chinese person) cannot
That just got really gross
Ray Palmer saves the day in highly improbable ways
Like come on the suit's not THAT good
Tatsu has to kill Maseo because Maseo isn't strong enough to overcome his brainwashing even though the white guy did it in three weeks
The entire subplot with the plane was entirely pointless, which means Maseo's death was entirely pointless
Oliver tries to explain to Diggle why using the women in your life as pawns is a-okay
Malcolm Merlyn is a liar
Who knew
Roy abandons Thea for her own good, which normally I would complain about but she's going to become Speedy so who even cares
Oliver has apparently gassed everyone but since he was conveniently rendered unconscious like two episodes ago we can pretty safely assume they aren't dead
He's marrying Nyssa, who once again fails to kill him and it is once again laughable because Nyssa could kill Oliver with her pinky
If only the writers weren't all about the Almighty Straight White Male then maybe we would get some consistent fighting abilities
The season is almost over thank heavens
What a train wreck. Logic? Nope. False dichotomies? Check. The same sloppy writing that has plagued the entire season? It is here in abundance.
But there is one particular atrocity that I want to discuss in this season, and that is the concept of corrective rape.
"Corrective rape?" say the Arrow writers. "What's that?"
Corrective rape is a hate crime. In the simplest terms, it is an act of violence wherein members of the queer community are raped by straight people because the straight people believe the trauma will 'turn them straight.'
And yes, just in case your jaw is rightly dropped, corrective rape exists, and people actually believe that it will work. Because nothing makes a person want to have sex with a group more than being raped and traumatized by that group!
"But Molly," say the Arrow writers, "why are you bringing this up? It's nothing like Ra's al Ghul forcing his lesbian daughter to marry a straight man to be raped and forced to bear children so that the sexuality he has always punished her for can stop being an inconvenience to him!"
In response, I will get a large spray bottle and spritz the Arrow writers for being bad.
Look, I'm not saying that rape can never ever ever exist in fiction. These topics do need to be dealt with. In fact, Arrow's CW sister Reign had a rape plotline this season that was handled tactfully, carefully, and with careful attention to the symptoms and effects of PTSD.
The problem is that Arrow is horrible at dealing with its queer women. And since real-life queer women are subject to murder and rape in disproportionate amounts, it is at the very least, distasteful. At most, it perpetuates the ideas that, since queer women don't want to sleep with men, they don't really have a purpose. Sarah was a vigilante until she had to be killed to propel Oliver's ascension to Demonhead. Nyssa has flitted in and out of the plot at random, usually getting in the way, before getting a few brief moments in the sun eating milkshakes. And now this.
Congratulations queer women, this plotline says. You can die or be raped. We have nothing else for you.
Across the board, the response of the online community is one resounding, detached, "Writers, you suck."
This is the laziest way to tell a story. It really is.
At least in Reign, the woman in question (Spoiler alert: It's Mary) has had a million other plotlines. She has been romanced by three different men, slipped into adultery, played around with the succession of the French throne, weathered a plague, run away from court, and thrown a lot of awesome parties, all while avoiding assassination attempts, assassinating a few people, and being queen of Scotland in her own right.
Elsewhere in the CW universe, The 100's lead, Clarke Griffin, is a confirmed, canon bisexual character who has assumed leadership of the entire Arc population. She has dealt with choices of war and morality, forged political alliances, and gained the respect of the people who follow her.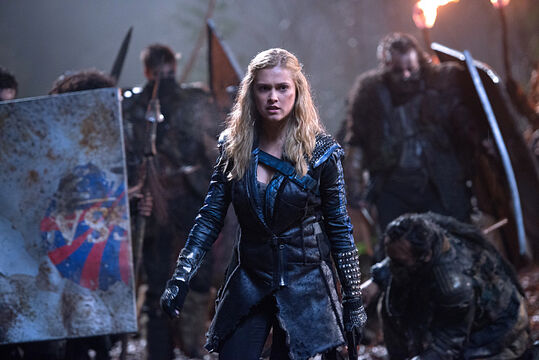 And guess what? She has never been raped or threatened with rape. Lexa, the other confirmed queer character, has also never been raped or threatened with rape. Most of her plot revolves around being the very effective and ruthless commander of her forces.
It's almost like queer women (and women in general) can have plots that don't revolve around the punishment and repurposing of their sexuality.
To be honest, I would not lay money on seeing one of those plots in Arrow.
Ever.
At least there is one thing to be thankful for: We're almost done.
---
Follow Word of the Nerd on
Nerds Assemble!